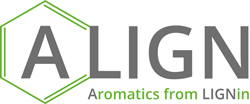 Funded by the German Federal Ministry of Education and Research (BMBF) from 2018-2021 with 1.8 M EUR.
Read more
The production of aromatics is crucial for the chemical industry. Currently, virtually all aromatic building blocks are produced from fossil oil. However, the availability of aromatic hydrocarbons from fossil sources will decrease, as less crude oil will be refined for energy use. The resulting gap between supply and demand can be met by using bio-based, renewable feedstocks to produce aromatics. This is addressed in the BIG-Cluster project ALIGN. It targets highly functionalised bio-based aromatics, which can be used in many different fields of applications, such as coatings, adhesives, or cosmetics.

The ALIGN Project started in April 2018 and combines experts in the field of bio-based aromatics from academia and industry. It deals with the conversion of lignin to bio-based aromatics with a high market value. The consortium consists of three partners with extensive expertise in lignin extraction and depolymerisation (Fraunhofer CBP, KU Leuven, LXP), one partner conducting downstream processing procedures (VITO) and three partners focusing on potential applications (Axxence Aromatic, Phytowelt Green Technologies, UPM Biochemicals) to produce high-pressure-laminates as well as natural vanillin for food and beverages. The German project partners will receive 1.3 m EUR from the Federal Ministry of Education and Research (BMBF).