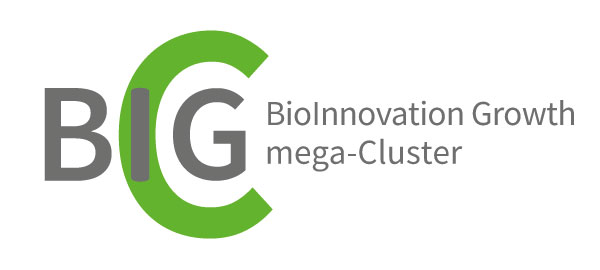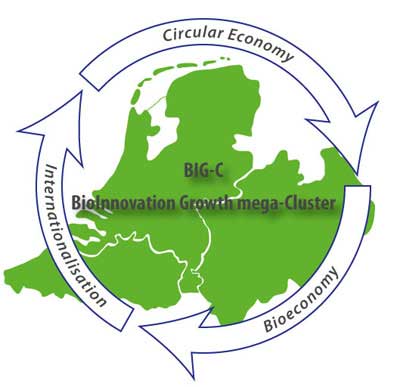 The Bio Innovation Growth mega Cluster (BIG-Cluster) is a cross-border 'Smart Specialisation Initiative' aiming at transforming Europe's industrial mega cluster in the Flanders region of Belgium, The Netherlands and the German state of North Rhine-Westphalia into the global leader of biobased innovation growth. The region has been a powerhouse of industrial innovation in the chemistry sector for decades. The industrial sector comprising chemical, food and other industries contributes approximately 25 % to the cumulative GDP of EUR 1,780 bn per year, making North-West Europe one of the most prosperous areas worldwide. Institutions, infrastructure, macroeconomics and education are excellent; meaning the mega cluster already excels at the four pillars of competitiveness.
BIG-Cluster has been established by the three cluster organisations BE-Basic (The Netherlands), Catalisti (formerly known as FISCH, Flanders, Belgium) CLIB (NRW, Germany) and with their representatives Luuk van der Wielen, Ludo Diels and Manfred Kircher, who act on behalf of several other participating bioeconomy organisations in their home regions. The overarching goal is a comprehensive feedstock change with a focus on regionally available biobased and sustainable raw materials, climate protection and safeguarding jobs in the mega region.
Negotiations at the 2015 United Nations Climate Change Conference COP21 have underlined that the reduction of greenhouse gas emissions to limit the global temperature increase to 2 °C above pre-industrial levels is of utmost importance. Countries committing to a low-carbon economy emphasize the importance of technology developments to reduce fossil material use. Therefore, the objective of BIG-Cluster is to initiate demonstration plants for the production of chemicals and fuels based on sustainable resources – namely biomass and material streams from industrial waste gasses – in the region. To realize those demo plants industrial investments should be leveraged and combined with European and regional funds.
BIG-Cluster aims at establishing novel value chains within the topics "Aromatics and Fine Chemicals from Woody Biomass", "Chemicals from CO and CO
2
" and "Aviation fuels from various feedstocks".